Does your vehicle need shock or suspension repair? Rudy Schmid can help! You may need shock or strut repairs if you notice one or more of the following issues: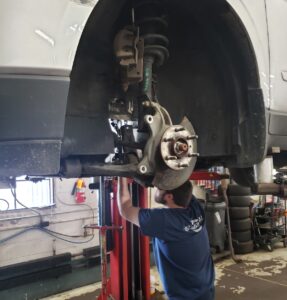 Vehicle wobbles or leans on turns
Shock or strut bodies are dented
Vehicle dips or slants forward when brakes are applied
Fluid drips out of the shock or strut body
Vehicle squeaks when steered
Cupped or uneven tire wear
Unwarranted bouncing after hitting a pot hole or road bump
Mounts or bushings are worn down
Rough, bumpy or shaky ride
Suspension or steering repair may be necessary when you are experiencing squeaks or squawks when riding over bumps in the road, excessive bouncing, pulling or steering wheel vibrations. Whether you drive a passenger vehicle, a limousine, or a commercial vehicle, let Rudy Schmid perform a suspension and steering diagnosis. We'll determine the problem and let you know what suspension or steering repair is necessary to get your vehicle back to a safe driving condition.
For Service, call: 315-422-4333
Contact Us – We're Here to Help!