Credit Card Policy Change
Effective July 1, 2022, we are moving to a cash discount policy. All prices posted, invoiced, and advertised reflect the discounted cash or check price.
All payments made with a credit or debit card will have the discount removed and 2.75% added to the credit card receipt. Thank you for your understanding, continued business, and for choosing local.
Family Owned and Located in Syracuse for 93 Years and Counting
Family owned and operated for three generations, Rudy Schmid is proud to continue our commitment to providing the highest quality auto repair work, collision repair, and friendly service to our customers in the Syracuse area. We're here for you every day to meet your individual needs. Renowned for providing the finest collision in Syracuse today. Our customers now look to us for their total car care. From collision repair, wheel alignment, brake service, Rust Check rustproofing, steering and suspension, NYS inspection, to fleet service, Rudy Schmid delivers the absolute trust you are looking for in Syracuse, NY. When it comes to maintaining your car and truck investment and keeping you safely on the road, look to the trusted auto repair, collision repair, and total car care center for over 90 years; Rudy Schmid.
Diane Schmid-McCall and Paul J. (PJ) Schmid honor and embody the values of our grandfather Rudy and father Paul. We continue to recruit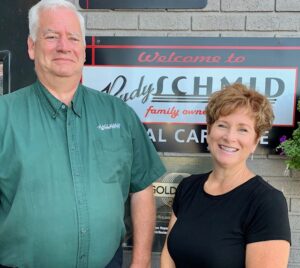 the finest talent in total car care, auto body repair and vehicle maintenance in Syracuse and provide the training needed — to I-CAR standards — in the latest trends and technology. To continue our focus on customer service, our team members have written and signed an internal mission statement.
We maintain a clean, organized auto body shop while using the latest computer tools that help make estimating accurate and fast. And Rudy Schmid is GREEN. By switching to waterborne paints, the shop has reduced its volatile emissions by up to 80 percent, has reduced its hazardous waste, as well as improved the air quality for our workers and the environment. We are also a member of the OCRRA Blue Ribbon Recycler Program.
Best of all is the friendly greeting, personal care, and rigorous follow up you'll receive from Diane, PJ, and our entire Schmid team. Customers find out soon that Rudy Schmid is your advocate and will go to extreme measures to make sure you're getting a fair deal from your insurance company, that your replacement car needs are met and that your car, truck or fleet gets the best care.  Stop by today and you'll know as well that when you bring your car to Schmid, you get it done right!
History

Now in its third generation, our collision repair and services centers were started in our grandfather Rudy's backyard garage in 1930. Despite the Great Depression, he kept the business going and moved to Pastime Drive in the 1940s. In the 1960s, our father, Paul, took over the business and moved to larger quarters, where we still operate today. Take a look at an old invoice from 1957. The Frame Shop (now, our service center), started in the 1950s and originally on Syracuse's West Side, joined the Body Shop (now, our collision center) in the early 1970s, doubling the size of our present location.
In 1992, we purchased the shop from our Dad and have continued the family tradition of quality and outstanding customer service. Since then, we have modernized the shop with the latest tools and paint processes, adopted environmentally friendly products and procedures and high productivity methods, and remodeled our front office for customer comfort and improved workflow.
As of 2023, we're celebrating 93 years in business, and we can't wait to see what the future holds for Rudy Schmid!
Contact Us Today!